Total Body Nutrition
Getting all the nutrition you need from the food you eat is impossible. But when researching nutritional supplements, it's easy to get lost in all the factors you need to consider. Just thinking about all the vitamins, minerals, and other nutrients you need is enough to make your head spin. That's why we trust Daily Ultimate.
You, your spouse, and your children over the age of four… You're all covered when taking the Daily Ultimate formula. It's the best nutritional supplement on the market, and it meets all your body's needs in one great-tasting liquid suspension. Daily Ultimate saves you time and money, and makes getting the nutrition you and your family need easier than ever.

STEP 1:
Daily Ultimate starts with purity. Our formula is 100% vegetarian, non-GMO, and both gluten and sugar free.

STEP 2:
We also said NO to artificial coloring and flavoring, and NO starch, salt, yeast, soy, or milk.

STEP 3:
Then we added over 200 nutrients and 150 naturally occurring phytochemicals including ellagic acid.

STEP 4:
All from 29 fruits, 13 vegetables, 20 proprietary herbs, 13 vitamins, 69 minerals, and 17 amino acids.
Your One-Stop Supplement
Daily Ultimate is a liquid multi-vitamin multi-mineral formula. Why liquid? Packing nutrition into pill form is difficult, and makes nutrients much less "bioavailable." This means you only absorb 10 to 12% of the nutrition in the pill-form supplements you take. With Daily Ultimate liquid solution, you get up to 98% of the nutrition, making it your family's one-stop supplement.
If you were going to buy separate formulas to take care of each of your family's needs, it would cost you a fortune. Daily Ultimate takes care of all your family's needs for about $1 per day per family member when you buy three bottles. With Daily Ultimate, you never have to worry about shipping charges. Plus to save you time and money, we'll auto-ship your order directly to your door so you never run out.
Order Now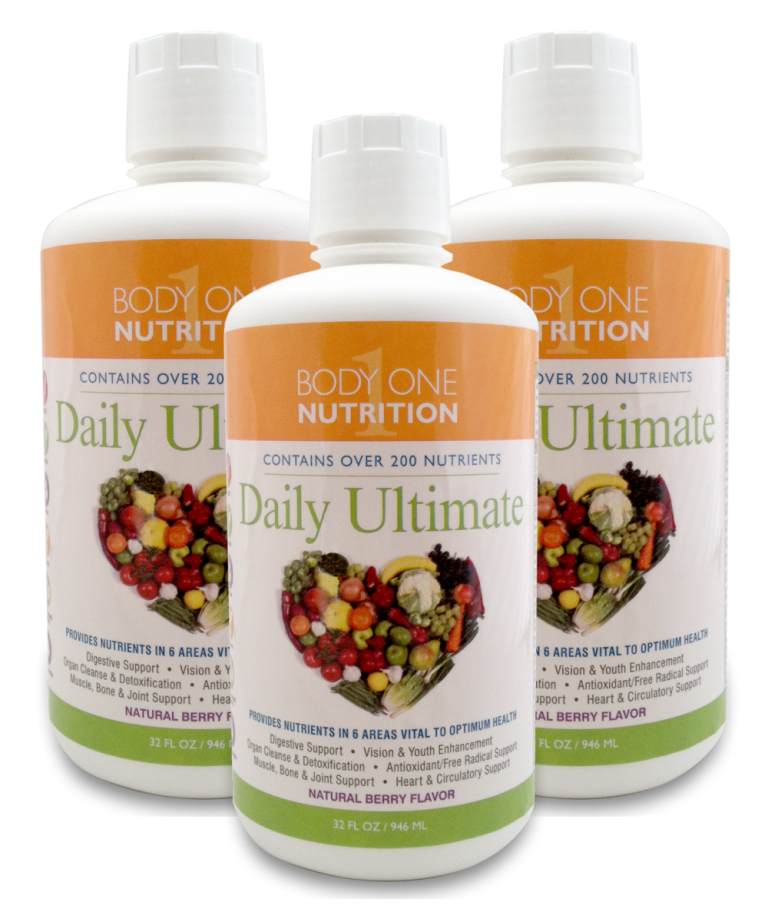 "I have tried several different liquid vitamins and the Daily Ultimate by far is the most nutrient-dense. I can really tell a difference in energy level between this and other vitamins I have tried in the past."​
Jennifer P.
"For anyone that has problems swallowing pills, this liquid multivitamin is perfect. I prefer vitamins in a liquid form because it is easier for me to take them. It tastes good."​
Robert G.
"It has everything the body needs for feeling and being your best. Best liquid MULTI on the market. I have been using this for several years with great results. I've tried substitutes but keep coming back to this. Nothing compares to Daily Ultimate."​
Edward F.
Frequently Asked Questions
No, but it is 100% vegetarian, non-GMO, and gluten and sugar free.
Daily Ultimate is free of artificial coloring, artificial flavoring, starch, salt, yeast, milk and soy derivatives.
The recommended daily dose of Daily Ultimate is 1-ounce per day per adult. Daily Ultimate is not recommended for children under the age of four, and we recommend consulting your pediatrician for child and adolescent dosage.